Snow-covered forests, silence, winter views all around – our snowshoe hikes are really an experience that should not be missed, when visiting Madonna di Campiglio in winter.
Every week, Hotel Alpina guests can join two half-day hikes for free, accompanied by the Madonna di Campiglio Mountain Guides. The hikes take place on Tuesday and Friday afternoons, and they are very popular with our guests, because they offer the chance to enjoy scenic views in a way that is accessible to everyone.
What are snowshoes?
Known in Italian as ciaspole or racchette da neve, snowshoes are a kind of large 'racket' anchored to the hiker's boots. When they are properly fixed, they allow hikers to walk on the snow easily without sinking. You just need to walk as you normally do – our snowshoe hikes are easy and perfect for first-timers, there is no need to be aware of particular techniques.
Kids and grown-ups can spend few hours in close contact with nature, walking across snowy forests and exciting sceneries.
Snowshoe hikes can be enjoyed during the day, but also in the evening, sometimes with a break in a mountain hut.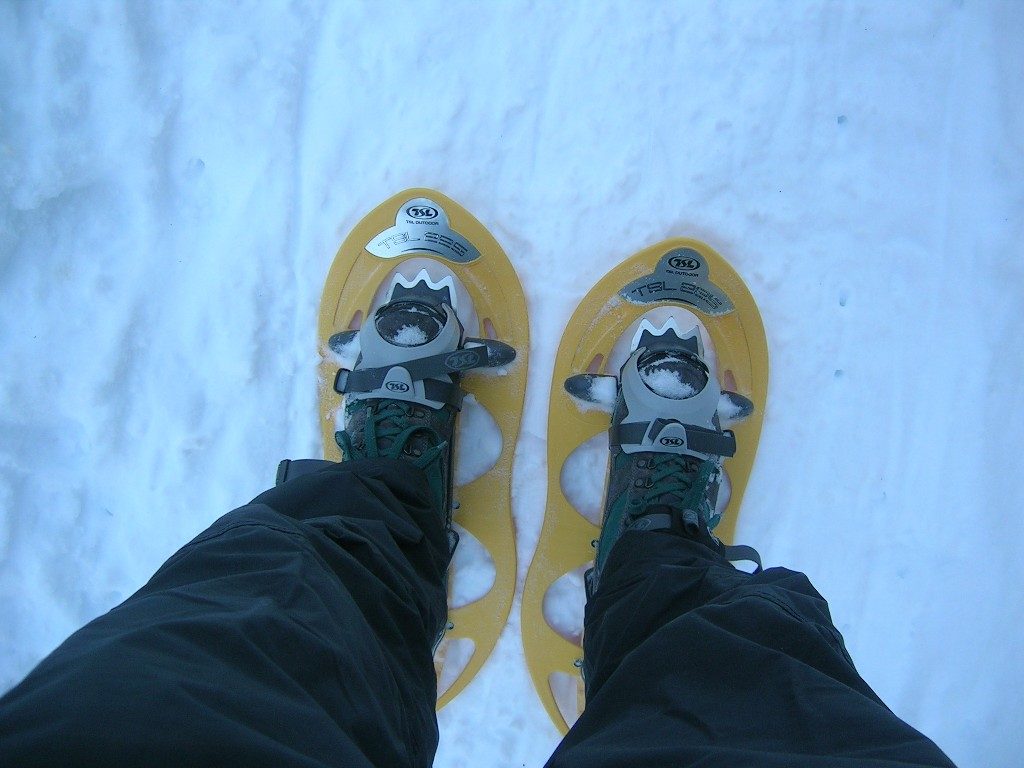 Itineraries for snowshoe hikes around Madonna di Campiglio
There are so many options suitable for snowshoe hikes – we can recommend at least a dozen itineraries overlooking the Brenta Dolomites, perfect for those who love walking.
Here are some of the itineraries that both our clients and we really enjoy. Our itineraries are also fully approved by the Alpine Guides, whose presence makes our snowshoe hikes a fun and carefree experience, always taking safety into account.
Check out our 3 favourite snowshoe hiking itineraries near Madonna di Campiglio:
Lago Spinale
A beautiful hike, leading from Monte Spinale up to the Rifugio Boch. Part of the way up and down is done by cable car, while the section to be covered with snowshoes takes you from Lago Spinale to Camp Centener, and then further to Pian del Graffer, an easy hike with stunning views.
Patascoss – Pian degli uccelli
You can easily reach Patascoss by cable car, and then strap your snowshoes on and continue to the Baita Casinel and Pian degli Uccelli. From here, you will be able to enjoy magnificent views over the Brenta Group. A flat path will take us to Malga Ritorto, through pristine fields covered with snow. From here we proceed downhill, heading back to Madonna di Campiglio.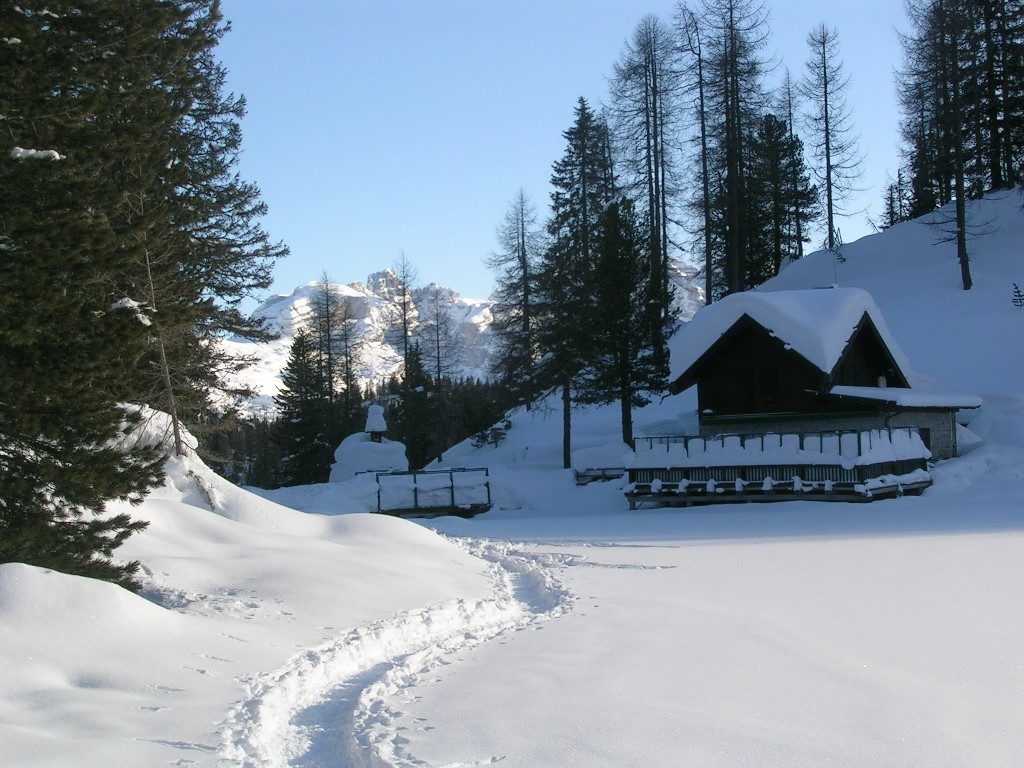 Giro dell'Imperatrice
This is one of the best-known Val Rendena hikes, perfect to be tackled with snowshoes. From Monte Spinale, we descend taking the route that Empress Sissi loved for the wonderful views over the Dolomites and the Adamello-Presanella group. The return is scheduled for late afternoon, in time for a tasty snack at the hotel, or a hot sauna.
The magic of the snow-covered forest, the silence of nature, and the majestic landscapes of the Dolomites are just part of the experience you'll enjoy during our snowshoe hikes.
So, during your next skiing holiday, leave your skis behind for an afternoon and try a snowshoe hike instead! We are sure that this experience will become one of your best winter memories.
If you want some more information, feel free to contact us through the form below!