If you are planning to take your family skiing in Madonna di Campiglio, there are several things to bear in mind, especially when it comes to children!
In this post, we are going to share some useful information to help you plan the perfect skiing holiday with your little ones.
Children can learn to ski and enjoy dedicated activities, while parents will have the opportunity to relax for a few hours. After all, you are on holiday!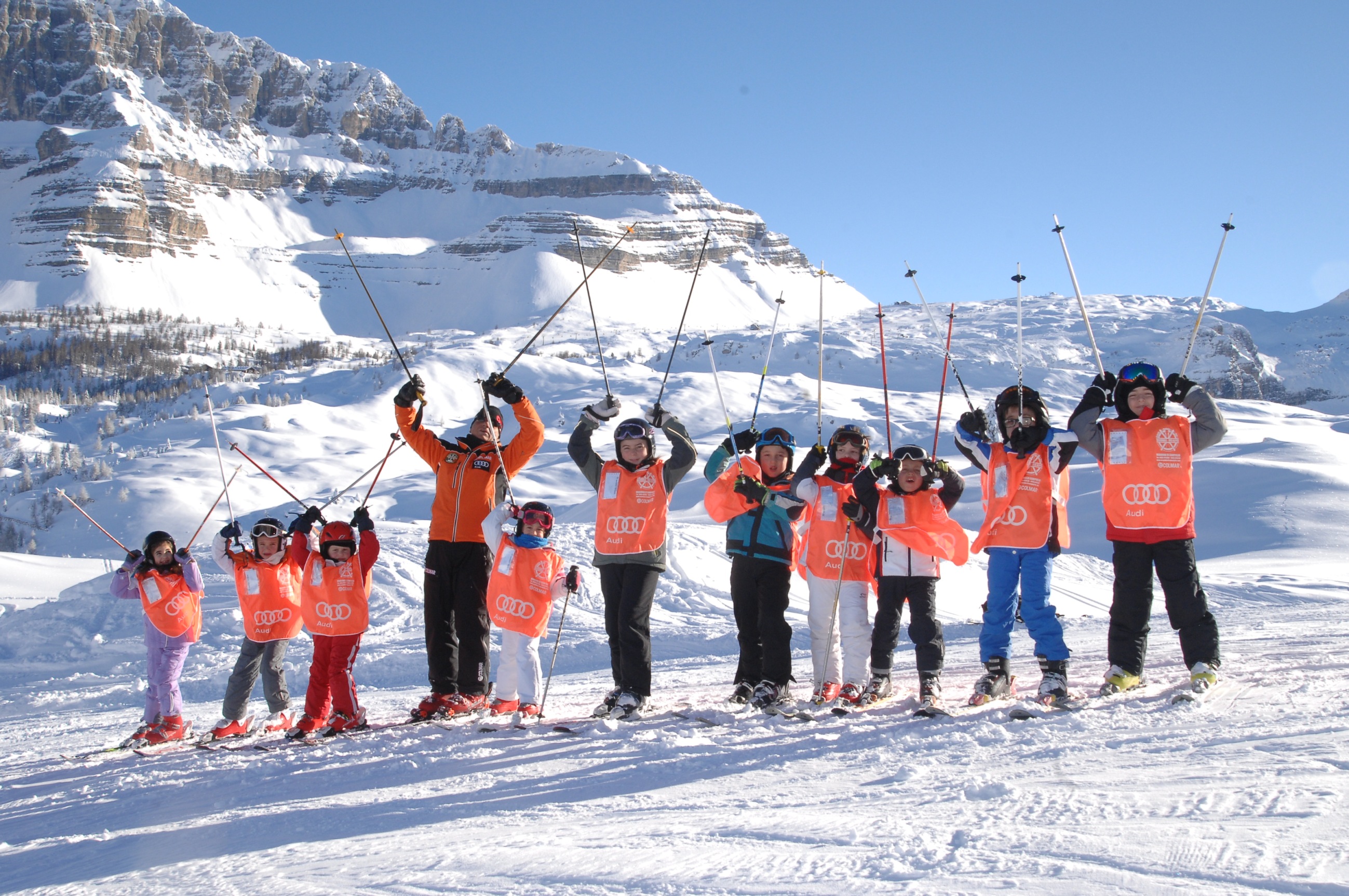 Going to ski school in Madonna di Campiglio
If your children are skiing for the first time, there are many ski schools offering weeklong group classes for children from 6 to 14 years old. Lessons last about 2 or 3 hours a day.
We have been working for years with the National Ski School – Des Alpes. In addition to the experience of professional ski instructors, the school offers transport to and from the hotel by private bus and organizes a final race with diploma and medals for all participants. Your little champions will be thrilled!
Some schools also accept little ones – even children aged 3 or 4 can learn to ski while having fun, like their big brothers and sisters.
Skiing with the 'Full week' and 'Thursday full day' special offers
Would you like to concentrate on alpine skiing? Choose the 'Full Week' special offer, with intensive training for 6 days until 3.45 p.m., including lunch in a hut with your instructors.
On Thursday afternoons you can carry on skiing a little longer, and get some extra practice with your instructors.
These two special offers are highly appreciated by our customers, so we feel are confident you'll love them, too!
Equipment rental for kids
Do you need equipment? You can rent it at a discounted price as part of your skiing course, or if you prefer you can buy it at one of many outlets around Madonna di Campiglio. Ask us for advice at reception and we will be happy to help you choose the right store.
The best ski slopes for children in Madonna di Campiglio
Between Madonna di Campiglio and Pinzolo it won't be hard to find suitable slopes for children – the nursery slopes in Campo Carlo Magno and blue run in Pradalago are the easiest for those who have just started. The Graffer slope, panoramic but gentle, is suitable for older children that already have a bit of practice. After the course, it will be nice to play together and do some runs with Mum and Dad.
Free Skipass for the skiing holiday
What about ski passes? There's a special promotion for children – 'Free ski pass' for children up to eight, accompanied by a paying adult. At Hotel Alpina we also have some promo weeks – have a look at our skiing holiday offers and our comfortable family rooms!
Fun at the Kinderheim
In the centre of Madonna di Campiglio, near the 'La Baita del Bimbo' kinderheim, the children will have fun from morning to afternoon with a rich entertainment program. First, the children will go to ski school on the slopes, and after lunch everyone will get the chance to play at the Kinderheim or outdoors. Parents can rest easy, because the service can also be offered to children under two years old!
So, what are you waiting for? Holidays in Madonna di Campiglio are for the whole family!