The Malga Tour is an easy hike around Madonna di Campiglio, showcasing the best mountain scenery in the region, with the chance to meet cows and cross flowery meadows.
This hike visits Malga Vaglianella, Vagliana and Mondifrà, and it is suitable for those looking for an easy trail and for families with children. Along the way you can admire spectacular views of the northernmost part of the Brenta Dolomites.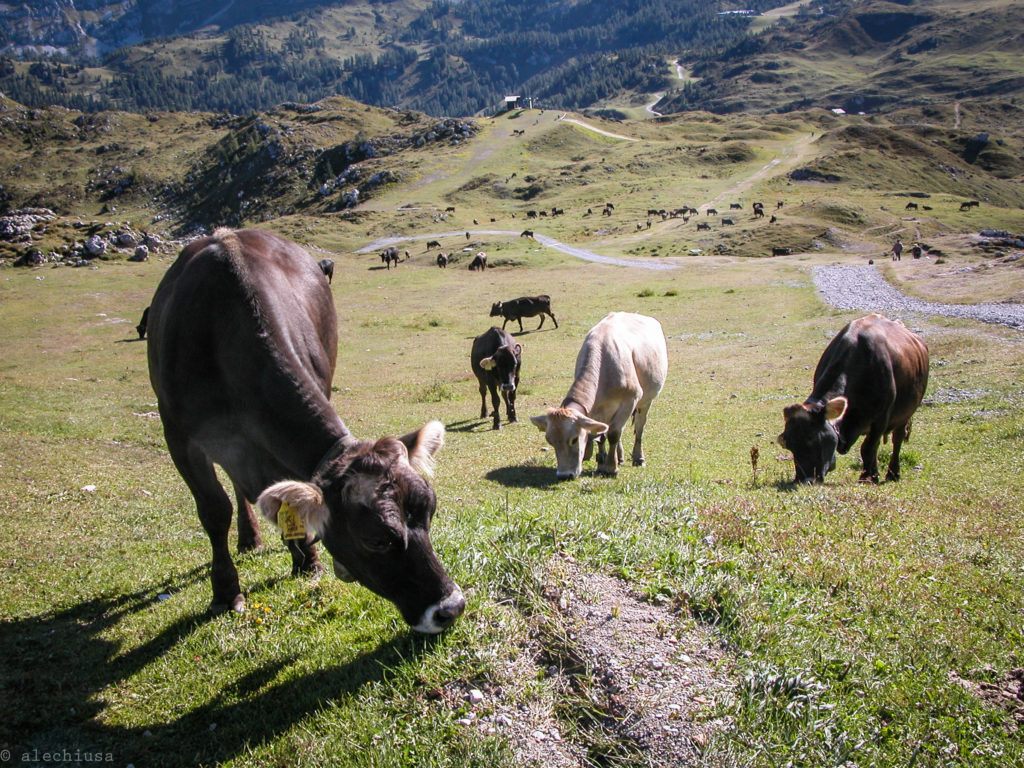 Trails between the malghe: Vaglianella, Vagliana and Mondifrà
The starting point of our hike is at the Grostè gondola lift, in Fortini: head towards the golf course until you reach Poza Vecia on a comfortable road. Once you get there, turn left through the forest to reach Malga Vaglianella.
The next stop is Malga Vagliana: the road continues uphill, leading to a beautiful pasture, perfect for a break. Afterwards, head back to Malga Vaglianella, take the path on the right towards Val Gelada and then proceed to Malga Mondifrà. The malga offers traditional dishes, food samples and kilometer zero cheeses – do not miss the chance of tasting the authentic flavors of the Dolomites! Then follow the ring route back to the starting point.
Trail features:
This itinerary is suitable for hikers of all levels, including families. The itinerary takes you to an area with cows and pastures, where it is possible to see marmots and roe deer in their natural habitat.
Start and end of the trail:
The itinerary begins and ends in Fortini (Grostè gondola parking).
Technical info:
Uphill altitude difference: about 400 meters
Downhill altitude difference: about 400 meters
Journey time: approximately 3 hours and 30 minutes
Transport:
Walk from your hotel or catch the shuttle bus to the Grostè car park. You do not have to get onto the gondola itself.
Equipment:
Hiking boots, possibly high on the ankle, appropriate 'layered' clothing in case of wind and rain, raincoat, hat, trekking poles. A water bottle and a little chocolate are useful to calm your thirst and get a little energy boost!
Food and drink:
There are no shelters along the route. The only places where you can get food and drinks are the Malga Mondifrà farmhouse, and the Fortini restaurant bar, located at the beginning/end of the route.