Mums and Dads, here are 5 easy hikes starting from Madonna di Campiglio, that you and your children will love.
Pure air, unforgettable landscapes, mountain lakes, fragrant flowers and if you're lucky, wild blueberries ready to pick in the woods. Are you ready? Grab your shoes and backpacks, and let's go!
Hike to Lago delle Malghette
This mountain path has an earth and rock surface, and it heads downhill, constantly and gently, making it ideal for an easy hike with children as it does not present any technical difficulties. Start walking from the center of Madonna di Campiglio, and carry on following the path towards the summit of Pradalago, following a beautiful trail through the woods. After reaching the lake, you'll be able to rest and enjoy the unforgettable mountain scenery – if you want to hike more, you can follow the path around the lake. To get back, follow the path that descends towards Campo Carlo Magno, reaching Madonna di Campiglio in about twenty minutes. The entire hike takes about three hours, but it is not suitable for strollers.
Malga Mondifrà in a stroller
You can reach Malga Mondifrà on foot, starting from the Grostè cable car square in the north of Madonna di Campiglio. After a comfortable path just over a kilometre long, partly paved and partly unpaved, you'll reach Malga Mondifrà. In the hut, you can rest and try traditional dishes and excellent cheeses produced there, enjoying the most genuine and authentic mountain flavors. This path is also suitable for strollers.
The Vallesinella Waterfalls Tour
This tour starts from the Palù area in ​​Madonna di Campiglio, and then continues along the "Sentiero dell'Orso". The trailhead to the waterfalls is near the little natural park hut after Piazza Palù, at the beginning of the forest road. Once you reach Malga Vallesinella di Sopra, you will see a field full of flowers, with the path leading to the Cascate Alte di Vallesinella (Upper Vallesinella Waterfalls) on your right. The show that will open before your eyes is unforgettable: water bursting out of the rocks, and then cascading in waterfalls of different shapes, with powerful streams of water. The force of nature manifests itself, leaving everyone speechless. Descend along the spectacular bridges near the falls, and then reach the Vallesinella mountain hut. From there, you can continue to the nearby Cascate di Mezzo, or take the Natural Park shuttle back to Madonna di Campiglio. The path is not suitable to strollers, except some short sections.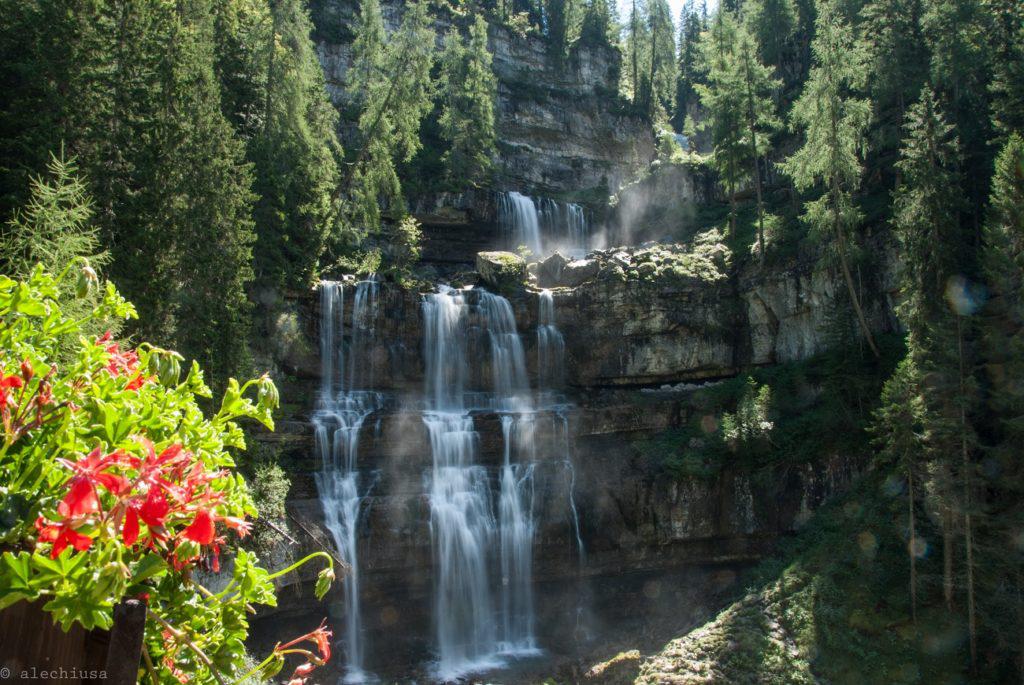 From Patascoss to Malga Ritorto with children, ideal for strollers
This hike starts from Patascoss, which can be reached by car from Madonna di Campiglio following the state road towards Campo Carlo Magno, and then turning onto the road to the Piana di Nambino. Alternatively, you can get the Colarin cable car from Madonna di Campiglio. From there, descend along a comfortable and flat asphalt trail leading to Malga Ritorto in about forty minutes. During the summer, it is possible to get on the Trenino delle Dolomiti (Dolomites Train), taking you from Patascoss directly to Malga Ritorto. This route is especially suitable for families with strollers.
Along flat trails from Patascoss to Lake Nambino
From Patascoss there's also a flat path, taking you to Lake Nambino Lake, a jewel nestled in the slopes of Cima Serodoli, in about forty minutes. Children can spend time on one of the small lake beaches, playing with fresh water that descends directly from the nearby glacier.
The route is very easy, but not suitable for strollers.
Trail info:
These itineraries are suitable for walkers of all levels, including families with children. When specified, the trails are also suitable for strollers.
What to take:
Hiking boots, possibly high on the ankle. 'Layered' clothing is always recommended in case of sudden weather changes. Make sure to always carry a rain jacket, sun hat, trekking poles, chocolate to recharge your batteries, and a water bottle.